Galerie
A naturally small website given the reclusiveness of "our man."
But here you will find some covers, images and paintings inspired by his literature.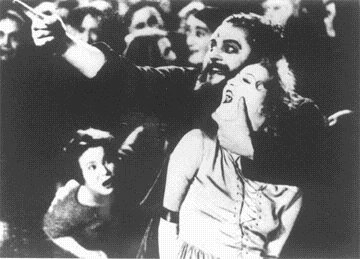 A SNAFU for Rocketman — "Barely off the round, the zone's newest celebrity 'fucks up' – LIFE, August 6, 1945" — Dank an Robert Bramkamp und John M. Krafft.
Remedios Varo — Tryptichon
V. — Advance Copy (JB Lippincott Com.) — Dank an Lee D. Thompson.
Gravity's Rainbow — Uncorrected Proof (The Viking Press) — Dank an Lee D. Thompson.
Gravity's Rainbow — Millennium Cover (Penguin Classics)
Die Enden der Parabel — gebundene Ausgabe (Rowohlt)
Vineland — (Rowohlt paperback)
Mason-Dixon Line — A Map of that Part of America where a Degree of Latitude was measured for the Royal Society by Charles Mason and Jeremiah Dixon
Tyrone Slothrop — hand-drawn astrological birth chart by Douglas Kløvedal Lannark
George Orwell, Islington 1946 — as mentioned by Pynchon at the foreword of the 2003-edition of George Orwell's "1984"
Marca Merica: fantastic paintings inspired by Pynchon's novel
Quintuple Zero Rocket
Proverbs for Paranoids
Proverbs for Paranoids 1
Proverbs for Paranoids 2
Proverbs for Paranoids 3
Proverbs for Paranoids 4
Proverbs for Paranoids 5
(by courtesy of the artist)
Max P. Häring: Zeichnungen zu Pynchons Roman
Erlösung der Dronten — Katjes Vorfahr Frans van der Groov in Episode 14
Nordhausen — Tyrone Slothrops Flucht mit dem Ballon aus Episode 33
Byron the Bulb — die Geschichte der unsterblichen Glühbirne und ihres Kampfes gegen das Glühbirnen-Kartell aus Episode 64
Anubis – Illustrationen zu den Episoden 44 bis 48
(Der Webmaster dankt den Künstlern für die Erlaubnis, die Illustrationen zu verwenden.)