Saturday, May 13, 2006

History Tells Us that Repressive and Cruel Governments Do Not Survive

Hier gibt's eine englische Übersetzung des Briefes, den Herrn Ahmadi–Najad letzte Woche an Herrn Bush geschrieben hat: History tells us that repressive and cruel governments do not survive . Das sollten sie sich beide mal zu Herzen nehmen.
An Aquarium Drunkard (An Aquarium Drunkard .... tales from the redneck underground) ist ein ziemlich geiles Blog: ich hab' mir gerade mal die Allman Brothers Band angehört, eine Fassung von "You Dont't Love Me" , die ich so noch nicht kannte, obwohl ich alle alten Scheiben der Band habe. Gefallen haben mir aber von dieser Site auch: "Rainbow" von Snowglobe , Gravity's Gone von den Drive–By Truckers . Nicht zu vergessen eine ganze Reihe von wirklich guten Country–Nummern: Townes Van Zandt: "Flyin' Shoes", Willie Nelson: "City of New Orleans", Marshall Tucker Band: "Fire On The Mountain", David Allan Coe: "The Ride", Willie Nelson/Merle Haggard: "Pancho & Lefty" und Merle Haggard/George Jones: "Must've Been Drunk".
Es lohnt sich wirklich für den an guter handgemachter Rockmusik Interessierten, diese Seiten einmal genauer zu durchforsten.
Der ist aber auch nicht schlecht: Audio for Drinking , wo es unter anderem ganz frische Musik z.B. aus New York gibt:
Asobi Seksu "Red Sea" .
Sunday, May 14, 2006
Scan this Book!
Googles Ankündigung vom Dezember 2004, den Inhalt der größten Bibliotheken zu scannen und über das Internet kostenlos nutzbar zu machen, schlägt einige Wellen. Der obige Titel erinnert natürlich an Abbie Hoffmans berühmtes "Steal this Book" , das es natürlich kostenlos im Internet gibt.
Thursday, May 18, 2006
Das "Cry Wolf" Problem
Während bei uns heftig darüber gestritten wird, ob der Geheimdienst Journalisten anzapfen oder als Quelle gebrauchen darf, kommt aus den USA eine Geschichte über eine Geschichte, die es seinerzeit nicht in die Zeitungen geschafft hatte, weil die Journalistin Judy Miller ihrer Geheimdienst–Quelle anscheind nicht so ganz traute. Wäre die Öffentlichkeit informiert gewesen, so besteht immerhin die geringe Möglichkeit, daß der 11. September 2001 vielleicht hätte verhindert werden können.
Wenn nicht, ja wenn nicht das Problem bestanden hätte, daß die CTU andauernd falschen Alarm gegeben hatte und niemand mehr wußte, ob das nun der große Anschlag ist, den alle erwarten, oder wieder nur blinder Alarm:
"The people in the counter-terrorism (CT) office were very worried about attacks here in the United States, and that was, it struck me, another debate in the intelligence community. Because a lot of intelligence people did not believe that Al Qaida had the ability to strike within the United States. The CT people thought they were wrong. But I got the sense at that time that the counter–terrorism people in the White House were viewed as extremist on these views.

"Everyone in Washington was very spun–up in the CT world at that time. I think everybody knew that an attack was coming — everyone who followed this. But you know you can only 'cry wolf' within a newspaper or, I imagine, within an intelligence agency, so many times before people start saying there he goes — or there she goes — again!"

— The 9/11 Story That Got Away by Rory O'Connor and William Scott Malone, AlterNet . Posted May 18, 2006.
Die Sache ist zu wichtig, um nur Geld damit zu verdienen, dachte sich hier wohl der Künstler, und so hat Neil Young sein neues Album ins Netz gestellt, wo es sich jeder anhören kann. Recht so, denn nur so kann man das Engagement auch ernst nehmen.
Living With War

I'm living with war everyday
I'm living with war in my heart everyday
I'm living with war right now
And when the dawn breaks I see my fellow man
And on the flat–screen we kill and we're killed again
And when the night falls, I pray for peace
Try to remember peace
I join the multitudes
I raise my hand in peace
I never bow to the laws of the thought police
I take a holy vow to never kill again, to never kill again
I'm living with war in my heart
I'm living with war in my heart and my mind
I'm living with war right now
Don't take no tidal wave
Don't take no mass grave
Don't take no smokin' gun
To show how the West was won
But when the curtain falls, I pray for peace
Try to remember peace
In the crowded streets
In the big hotels
In the mosques and the doors of the old museum
I take a holy vow to never kill again
Try to remember peace
The rocket's red glare
Bombs bursting in air
Give proof through the night,
That Our flag is still there
I'm living with war everyday
I'm living with war in my heart everyday
I'm living with war right now.
Gleichzeitig kann man die Texte der Stücke nachlesen, denn darum geht es schließlich auch. Der alte Haudegen Neil Young konnte es anscheinend nicht mehr länger ertragen, seinem Unmut über den Irakkrieg keinen Ausdruck zu verleihen. Herausgekommen ist ein in nur neun Tagen eingespieltes rauhes Rockalbum, das wie direkt aus den Siebzigern kommend klingt, wenn da nicht die Texte wären, die eben von ganz erschreckender Aktualität sind und ziemlich genau die CNN–Bilder der Ereignisse ins Gedächtnis zurückrufen, auf die sie sich beziehen. Amerika hat realisiert, was es der Welt und sich selbst mit dem Irakkrieg angetan hat:
Shock And Awe
Back in the days of shock and awe
We came to liberate them all
History was the cruel judge of overconfidence
Back in the days of shock and awe
Back in the days of "mission accomplished"
Our chief was landing on the deck
The sun was setting on a golden photo op
Back in the days of "mission accomplished"
Thousands of bodies in the ground
Brought home in boxes to a trumpet's sound
No one sees them coming home that way
Thousands buried in the ground
Thousands of children scarred for life
Millions of tears for a soldier's wife
Both sides are losing now
Heaven takes them in
Thousands of children scarred for life
We had a chance to change our mind
But somehow wisdom was hard to find
We went with what we knew an now we can't go back
But we had a chance to change our mind.
Selbstverständlich hatten die Amerikaner die Möglichkeit, "Nein" zu sagen, aber die Verletzung, die der 11. September der amerikanischen Seele zugefügt hatte, hatte seinerzeit nicht nur in Neil Young über patriotische Gefühle erweckt, und nicht nur er spürt jetzt die noch tiefer gehende Wut, von einer unverantwortlichen Führung mißbraucht und in etwas noch viel Schlimmeres als den 11. September verwickelt worden zu sein.
Und so gipfelt das Album in der — durch den Kanadier Young eigentlich unverschämten — Forderung nach der Absetzung des US–Präsidenten. Wenn die US–Künstler dies nicht in mindestens einem ihrer Songs auf jeder ihrer neuen CDs tun, solange der Krieg andauert, einer muß es ja machen, und das ist Neil Young:
Let's Impeach the President
Let's impeach the president for lying
And leading our country into war
Abusing all the power that we gave him
And shipping all our money out the door
He's the man who hired all the criminals
The White House shadows who hide behind closed doors
And bend the facts to fit with their new stories
Of why we have to send our men to war
Let's impeach the president for spying
On citizens inside their own homes
Breaking every law in the country
By tapping our computers and telephones
What if Al Qaeda blew up the levees
Would New Orleans have been safer that way
Sheltered by our government's protection
Or was someone just not home that day?
Let's impeach the president
For hijacking our religion and using it to get elected
Dividing our country into colors
And still leaving black people neglected
Thank god he's racking down on steroids
Since he sold his old baseball team
There's lot of people looking at big trouble
But of course the president is clean
Thank God
Wie es sich gehört, gibt es ein Blog, daß alle Meldungen rund um das Album sammelt, Living with War Blogspot .
AlterNet bringt ein wenig Humor aus Saturday Night Life: Bush's Greatest Misses — ein Cartoon mit den größten Mißgriffen des George W. Bush.
Hatte ich schon gesagt, daß ich Grandaddy mag? "Jeez Louis" und "Rearview Mirror" sind großartige Songs, die Lust auf mehr von der Band machen.
Und Venice is Sinking haben auch einen sehr schönen eigenen Sound entwickelt, wenn man den zwei Songs glauben kann.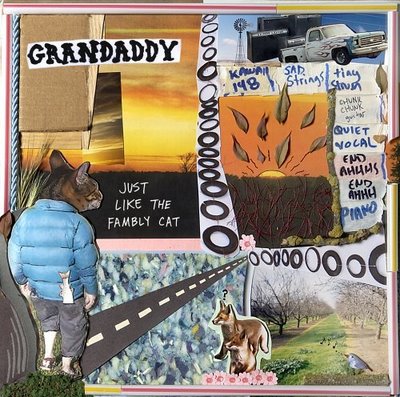 Index
Januar
Februar
März
April
Juni
Juli
August
September
Oktober
November
Dezember
No Responsibility for Links
comments are appreciated
© Otto Sell Mai 2006